Thurs. June 24th
FIRST, I want to THANK ALL THE PEOPLE WHO TOOK THE TIME TO LEAVE COMMENTS about my previous pics. I REALLY DO APPRECIATE you all taking the time to do that. I spend a good amount of time on both taking the pics and posting them up and it really does me good to know that the effort is appreciated. Thank you!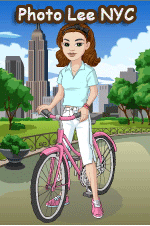 About a week and a half ago a good number of ecologically-minded cyclists took part in the

World Naked Bike Ride.

This is the second year that

NYC

has participated. The event started in 2004 and has grown to include 70 cities from over 20 countries around the world.

The message of WNBR focuses on promoting cycling



* Save the planet!

shifting to a carfree lifestyle is one of the most powerful things a person can do to make a real difference in reducing negative environmental impacts on this planet.
"Our message to the world is one of simplification, human harmony and love. For a future to exist for tomorrows generations, we have to stop wasting the life blood energy of the Earth, stop fighting and killing in the name of consumerist wealth accumulation and learn to love and respect all life on this planet." – Conrad Schmidt, founder of The Work Less Party and Artists for Peace and WNBR and organizer for WNBR Vancouver, BC



* It's time to put a stop to the indecent exposure of people and the planet to cars and the pollution they create.

We face automobile traffic with our naked bodies as the best way of defending our dignity and exposing the vulnerability faced by cyclists and pedestrians on our streets as well as the negative consequences we all face due to dependence on oil, and other forms of non-renewable energy.


* Breathe easier.

"If you stand in a closed garage with a running car, you will die in a matter of minutes. Hundreds of thousands of cars in our cities create dirty, unhealthy air." – Go By Bicycle



* Body image/self awareness.

Cycling promotes body awareness, the fact that one can achieve a more healthy lifestyle from the exercise we achive by using self-powered transport



* Self-sufficiency.

Cycling makes us non-renewable energy sources, less dependent oil



* Think Globally, Act locally.

Cycling promotes local cycling businesses and local cycling organizations.



* Less is more.

WNBR strips the complexities from modern transport to a simplified message of cycling. For the vast majority of most peoples' transport needs, cycles are the right vehicle for the right job. "You don't need a wheelbarrow to carry a pea".



* The unabashed vehicle of the revolution.

By cycling naked we declare our confidence in the beauty and individuality of our bodies and the bicycles's place as a catalyst for change in the future of sustainability, transport, community and recreation.
"Unless we change direction, we are likely to end up where we are heading."



* Community-building.

Bicycles create public space, enhance street life and build a sense of community
"If you see someone you know while riding, it's easy to stop and say hello. Bicycles create public space, enhance street life and build a sense of community"– Go By Bicycle



* Peace of mind.

"People are looking for places where they're not constantly being confronted with cars. It's just like non-smokers seeking smoke-free space." – Franziska Eichstaedt-Bohlig, German Green Party

-- Source: WNBR Wiki Page

This picture below IS NOT MINE. It is from the

NYC WNBR site

.




This year's event was MUCH BETTER than last year's and

I give it up to the organizers for apparently doing a much better promo job this year. This year's event appeared to be a smashing success! :D

Not that many people attended last year (maybe because it was a rainy/drizzly day) and it seemed like there was far more photographers than bike riders. Lol! But heh, that is the day I first saw

Andy Golub's body art

so it wasn't a total wash out. :)

The event officially started at

Grand Ferry Park

in

Williamsburg, Brooklyn.

Although I went out that day to take photos of the bike ride, I ended up with most of my photos being of Williamsburg! :D It is a visual dream! I will post those photos to my regular blog some time in the future.




Prior to the event, body painting occurred at

Time's Up! Bike Shop

at 99 South 6th Street. A good number of people just painted each other, but there was also a really good professional body artist. Unfortunately, I lost the artist's name and contact information. If anyone knows who she is please email me her name and website and I will add the information to this post. TIA! :)




Some of the women did not want us to take pictures of either their faces or the front of their bodies because they feared negative work-related repercussions. I can completely understand their concern, though I think it is a shame that someone's job/career would be negatively impacted by biking in an environmental event. As such I have only shown the faces of women who explicitly gave me permission to photograph them. Where I ended up with women in the background of photos and I was uncertain as to whether or not they wanted their faces shown I have blurred out their faces. If you see your face here and you do not want it shown, just email me and I will blur it out.




Most of the women had elaborate designs, but most of the men had smaller dot like designs.




Of course BP hate was the theme of the day. (Rightfully so!)




The tools of the body art trade. :)




And some signs for the road. :)




I thought this guy's body painting was the prettiest of the day. It looked like some sort of angel-inspired design. STRONG work by the body artist.




After the body painting was finished they all headed back over to

Grand Ferry Park.






Where the organizers thanked the riders for coming out and showing their support.




I really was pleasantly surprised by all the people who came out and how enthusiastic they were.




Now I know it is called the

World Naked Bike Ride

, but it is actually only legal to be topless in NYC, not bottomless, so this guy didn't get very far before he had to put back on his underwear. Also wouldn't it hurt to ride a bike completely nude?




Got to love this bicycle crossing his shoulder and back. It was done by the body artist shown in the above pictures.




After the speech and pep talk they were off, ....




... heading towards the

Williamsburg Bridge

and Manhattan.




Maybe one year I will be brave enough to do this .... but I'm not holding my breath! Lol! :D :D

HOPE YOU ENJOYED THE PICS! :D

Here is video coverage of the rest of the ride. Maybe next year, even if I don't go topless I will ride along with them in order to get more pictures. :D